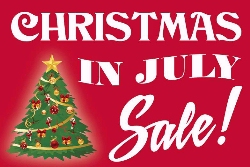 Christmas In July
Wednesday July 24th thru Sunday July 28th!

Our Barn is transformed into a winter wonderland, showcasing Christmas Decor in a way you haven't seen before! Best of all… it's ALL at least Half Off!
---
Autumn Festival
October 3rd thru October 6th

EVERYTHING IS ON SALE!

Fall and Halloween Decor make the store look amazing this time of year!

Extended Hours!
Thursday 10:00 – 7:00
Friday 10:00 – 7:00
Saturday 10:00 – 6:00
Sunday 11:00 – 5:00
---
Christmas Open House
November 12th -17th

Not only is this the HUGE Debut of our Holiday Merchandise, it is all on sale!
---